Accreditaion and Rankings
Accreditation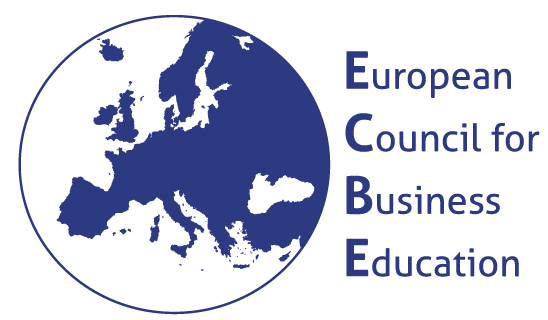 ECBE, the European Council for Business Education, is an international not-for-profit educational organisation, registered in Brussels as an AISBL – Association Internationale Sans But Lucrative. It is committed to supporting academic and professional learning institutions in business and related fields. It provides advice and consulting services to encourage and support institutions to commit themselves to continuous improvement by engaging in its accreditation processes.
ECBE's mission is to support higher and further education institutions and professional training organisations to develop outstanding, innovative programmes which will help students to develop the skills, knowledge and experience to succeed in today's dynamic global economy.
Programs of PRUE accredited by ECBE for 2013-2016:
Master in Management (taught in Russian, taught in English) – Faculty of Business
Master in Economics (taught in Russian) – Faculty of Business
Bachelor in Economics (taught in English) – Faculty of Business
Bachelor in Management (taught in Russian) – Faculty of Business
The Association of MBAs (AMBA) is the international impartial authority on postgraduate business education, established in 1967 by a small group of business graduates with the aim to raise the profile of business education and the MBA qualification in UK and Europe.
Vision of AMBA is to be recognised internationally as the authoritative voice in postgraduate management education.
Programs of PRUE accredited by AMBA for 2011-2016:
Part-time MBA Part Time – Faculty Plekhanov Business School "Integral"
Executive MBA – Faculty Plekhanov Business School "Integral"
Russian Railways MBA Part Time – Faculty Plekhanov Business School "Integral"
Chartered Institute of Marketing (CIM) is a UK-based professional association with 40,000 members - the world's largest organisation for professional marketers. Governing principles are set out by Royal Charter: "...to promote and develop the art and science of marketing and to encourage, advance and disseminate knowledge, education and practical training in and research into that art and science".
Programs of PRUE accredited by CIM for 2014:
Professional Diploma in Marketing
The Chartered Institute of Management Accountants (CIMA) is a United Kingdom-based professional body offering training and qualification in management accountancy and related subjects, focused on accounting for business; together with ongoing support for members. CIMA is one of a number of professional associations for accountants in Ireland and the UK. Its particular emphasis is on developing the management accounting profession within the UK and worldwide. CIMA is the largest management accounting body in the world, with more than 203,000 members and students in 173 countries. CIMA is also a member of the International Federation of Accountants.
Programs of PRUE accredited by CIMA:
Master of Arts in Finance Stream 2011 to 2015 Graduation
Bachelor of Economics (Accounting, Analysis and Audit) 2013-2017 graduation
Bachelor of Management (Managerial and Financial Accounting) 2013-2017 graduation
Rankings
http://www.topuniversities.com/
The QS World University Rankings are annual university rankings published by British Quacquarelli Symonds (QS). The QS rankings comprise both world and regional league tables which are independent of and different from each other owing to differences in the criteria and weightings used to generate them.
It is one of the three most influential and widely observed international university rankings, along with the Times Higher Education World University Rankings and the Academic Ranking of World Universities
In 2013 PRUE is included in Top 800 universities at the QS World University Rankings (701+).
According to QS University Rankings: BRICS 2014 PRUE took 100= position with 41.00 score.
Download brochure: QS BRICS 2014: Emerging markets. Universities in the spotlight.
QS University Rankings: Emerging Europe & Central Asia 2014-2015 PRUE took 71-80 position
http://www.eduniversal-ranking.com/
Eduniversal is a global ranking and rating agency specialized in higher education. Created in 1994, the company is known as SMBG in France and Eduniversal worldwide.
Offering the annual ranking of the Best 1000 Business Schools in 154 countries and ranking of the best 4000 Masters and MBA programs in 30 specializations worldwide.
Programs of PRUE ranked by Eduniversal as 3 Palmes Excellent Business School:
In 2013-2014 year Eduniversal the program of IBS-Plekhanov in International Corporate Finance took 8th position in Eduniversal Master Ranking: the Best Masters Ranking in Corporate Finance EASTERN EUROPE.
The "Webometrics Ranking of World Universities" is an initiative of the Cybermetrics Lab belonging to the Consejo Superior de Investigaciones Científicas (CSIC), the largest public research body in Spain
The Cybermetrics Lab using quantitative methods has designed and applied indicators that allow us to measure the scientific activity on the Web. The cybermetric indicators are useful to evaluate science and technology and they are the perfect complement to the results obtained with bibliometric methods in scientometric studies.
According to Webometrics Ranking of World Universities PRUE takes the following positions:
World Ranking - 3687
Continental Ranking - 1077
BRICS Ranking - 841
Central & Eastern Europe Ranking - 269
Country Ranking - 84
International University Rating is the project of Interfax Information Services Group developed to create an international ranking service for universities in the CIS, Georgia, Latvia, Lithuania and Estonia. The university ranking uses the key methodological approaches of QS World University Rankings.
According to the International University Rating in 2013 Plekhanov Russian University of Economics held the following positions:
61+ in the main list of universities rankings
18+ employer reputation rankings
44+ among universities of Eurasian Economic Community rankings
PRUE at International University Rating for CIS, Georgia, Latvia, Lithuania, Estonia
International group RAEX (full name - International group of rating agencies «Expert RA») unites a number of rating agencies and analytical centers working in the majority of countries. Rating agencies of the group are assigning credit ratings and their analogues to companies, financial institutions, countries and regions as well as to their securities. Besides classical credit ratings the agencies are also doing university ratings, rankings of medical facilities and etc. The group is absolute leader by the number of ratings assigned on the territory of CIS countries.
According to RAEX Top-100 Russian Universities Ranking PRUE took 24 place in the country for 2014. In 2014 PRUE took 7th place in the category "The largest suppliers of qualified specialists for the leading employers of the world" among Russian universities" and 180th place world-wide (download the RAEX International Observatory on Academic press-release). Also PRUE took 4th place among Russian universities according to the amount of graduates that take executive positions in 400 biggest companies in Russia.
According to analysts of Expert RA Rating Agency, PRUE is placed into "C" category of Rankings of Higher Education Institutions in the CIS published on March 1, 2014. Category "C" means "high level of preparation of graduates".

4 International Colleges & Universities is an international higher education search engine and directory reviewing accredited Universities and Colleges in the world. 4icu.org includes 11,307 Colleges and Universities, ranked by web popularity, in 200 countries. The 4icu.org directory includes worldwide higher education organisations which satisfy the following requirements:
- are officially recognized, licensed or accredited by national or regional bodies such as ministries of education and/or recognized higher education accrediting organizations,
- are officially entitled to grant four-year undergraduate degrees and/or postgraduate degrees,
- provide traditional face-to-face learning facilities, programs and courses.
According to 4 International Colleges & Universities ranking for 2014 PRUE takes 4345 position worldwide.
Founded in 1996 Alexa Internet, Inc. is a California-based subsidiary company of Amazon.com which provides commercial web traffic data. According to its website, as of 2014, Alexa provides traffic data, global rankings and other information on 30 million websites, and its website is visited by over 8.8 million people monthly.
According to Alexa data PRUE's official site take 160.245 position among 30 million websites and 14.241 position in Russia.
See also: International Relations